Pearson Darby was a major international law firm based in both New York and London, established by the merger of Pearson Hardman and Darby International. In the episode "The Other Time" it was renamed as Pearson Darby Specter following the promotion of Harvey Specter as name partner.
Due to Daniel Hardman's attempt to bankrupt Pearson Hardman with lawsuits specifically tailored to drain all of their resources and eventually cripple the firm, Jessica Pearson merged the firm with Edward Darby's international law firm, Darby International, with the sole purpose of using Darby's vast resources and funds to keep her firm afloat, sacrificing her position of leadership in the process.
After the merger, Harvey Specter struck a deal with Edward Darby that if he could manage to get Ava Hessington of Hessington Oil off the hook in a bribery charge and a murder trial, Darby would back Harvey for managing partner, taking down Jessica. Jessica, mindful of this, wishes for Harvey and her to be on the same side, and puts Harvey's name on the door, renaming the firm as Pearson Darby Specter.
Notable members
Edit
Partners
Edit
Managing Partners
Edit
Senior Partners
Edit
Associates
Edit
Senior Associates
Edit
Junior Associates
Edit
Paralegals
Edit
Assistants
Edit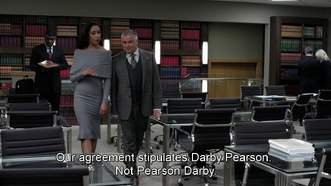 Due to Edward Darby having the most control of the firm (51%, as opposed to Jessica's 49%), the firm was to be called Darby Pearson - Darby, however, decided to let Jessica's name go first.
Ad blocker interference detected!
Wikia is a free-to-use site that makes money from advertising. We have a modified experience for viewers using ad blockers

Wikia is not accessible if you've made further modifications. Remove the custom ad blocker rule(s) and the page will load as expected.